Senior trading executives believe that larger trading companies are about to take the crypto plunge, and could be set to provide the market with a timely boost, per a new study. Bitcoin/USD is the most preferred trading pair, it added.
In a report named Institutional Adoption of Digital Asset Trading, compiled by the Acuiti management intelligence platform, in conjunction with the CME Group and the Bitstamp crypto exchange, authors claimed that survey data "suggests the digital assets market is on the cusp of significant growth from traditional trading firms."
The findings were based on a survey of 86 senior executives "across the sellside, proprietary trading firms and the buyside." The authors stated that its respondents from non-bank Futures Commission Merchants, proprietary trading firms and the buyside "tended to be C-suite [the executive-level managers]," while banking and brokerage respondents were primarily "heads of function at managing director level." The findings were announced this week. However, the authors did not specify whether the survey was conducted before or after the market crash in March.
In either case, according to the survey, although most "traditional trading firms" still refuse to handle crypto, the tide could be about to turn.
The authors wrote,
"97% [of trading firms] will consider the opportunity again in the next two years or less and 45% are planning to revisit the idea in six months or less."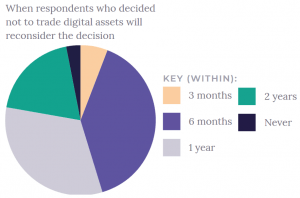 What's stopping them? Yes, you guessed it – it's regulation again.